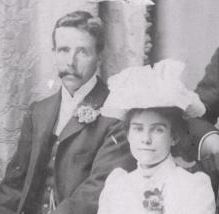 Thanks to Mike Walsh, grandson of Thomas Barnett, who provided valuable input (family documents, photos, press cuttings) for this item.
Thomas Barnett spent a quarter of a century as a signalman at Ashchurch. He was born in 1871 in Salford Priors, Warwickshire, near Evesham, and at the age of 14 joined the Midland Railway as an assistant porter at the local station where his father Job was a railwayman. There followed the usual series of postings around the network, see tables below, during which he progressed to porter, porter signalman and finally signalman.
He was in Bristol in 1905 where he married and started a family. He settled here for six years, then transferred to Ashchurch, where he would remain until his retirement in 1936. After the first war, and perhaps also before, he and his family occupied one of the Midland Railway Cottages, number 5, at Ashchurch station.
His wife died in 1920 but he remarried seven years later. Two of his daughters were married in Ashchurch in the 1920s. He retired in 1936. A long local newspaper item to mark his retirement summarised his career and noted that he had served with the railway for fifty years and six weeks. On retirement he went to live in Tewkesbury, where he died in 1941 at the age of 69. He had lost his second wife in 1938.
Thomas's father Job was employed as a ganger by the Midland Railway at Salford Priors near Evesham, and was part of the workforce which constructed the branch line from Ashchurch to Evesham
Thomas was in charge of the Ashchurch Junction signal box at the time of the fatal accident at Ashchurch on 29 January 1929 when the Bristol-Edinburgh night mail train ran into some wagons that were being shunted across the line. He gave evidence at the public enquiry, which was extensively reported in the Times and Gloucester Journal newspapers. There is a full account of his actions and the actions of others leading up to and during the emergency. The enquiry found that he had acted correctly and he was exonerated from any blame.
The Ministry of Transport report into the accident is Item No. RFB01582 in the Study Centre collection and a copy can be downloaded here as a 4.6Mb pdf.
From the various non-railway records
key to column 2 (sources): cen=census; gro=General Records Office; rly=Midland Railway doc; par=parish; prob=probate record; var=various
key to sources: cen=census; er=electoral register; fam=family; par=parish; pre=press; reg=central birth/marriage/death list; 39=1939 register;
date
source
detail
1871
par,39
born 1 Dec, baptised 31 Dec Salford Priors, father Job railway labourer
18776-87
fam
attended Salford Priors school
1881
cen
at home at Salford Priors, at school, father Job railway labourer
1891
cen
boarding at Ilkeston, railway porter
1891
cen
boarding at Pucklechurch, Gloucs, railway signalman
1902
reg, pre
22 Jul, married Margaret Bottom at St John's, Clifton, Bristol, marriage registered Bristol 3rd quarter
1903
reg,cen
daughter Alice Jeannetta born Pucklechurch, Gloucestershire, birth registered Chipping Sodbury, 3rd quarter
1906
reg
birth of son Thomas Gilbert registered Bristol, 2nd quarter
1908
reg
birth of son Harold James registered Bristol 4th quarter
1911
cen
at 15 Brook Road, Bristol, with wife Margaret and three , Midland Railway signalman
1913
reg
birth of daughter Kathleen N registered Tewkesbury 2nd quarter
1914
er
in Ashchurch
1918-193(8)
er
at 5 Midland Cottages, Ashchurch
1920
reg
12 Mar, death of wife Margaret, registered Tewkesbury 1st quarter, age 45
1923
par
6 Oct, marriage of daughter Alice Jeanetta at Ashchurch, father signalman
1927
reg
marriage to Jane Smith registered Tewkesbury 2nd quarter
1935
par
marriage of daughter Kathleen Nora at Ashchurch, father signalman on railway
1936
pre,fam
Dec, retired after 50 years and 6 weeks railway service
1938
reg
death of wife Jane registered Cheltenham 2nd quarter, age 66
1939
39
at Hillsbrook, Margaret Road, Tewkesbury, widower, retired railway signalman
1941
reg,par
death registered Cheltenham 3rd quarter, age 69, buried St Mary's Tewkesbury, address Priors Park, Tewkesbury
From Midland Railway records
station
date
appointment
Salford Priors
25 Oct 1886
appointed as asst porter, age 14, birthday 1 Dec
Salford Priors
1 Apr 1887
asst porter
Little Eaton
17 Jan 1889
asst porter
Ilkeston
1890-93
Studley
17 Oct 1892
station porter
Harvington
21 Apr 1893
porter signalman
Evesham
19/10/1899
signalman
Mangotsfield
1 Jan 1901
signalman at Westerleigh
Bristol St Philips
15 Aug 05
signalman
There is also information from family of a brief spell in Moira, Leicestershire, in 1889