James, second son of stationmaster William Watkins, followed his father into a career with the railways. He began as a goods clerk, then a booking clerk, at Ashchurch before World War 1, then rose via Midland Railway and London Midland Scottish to a senior position in British Railways Management after World War 2. He also had a brilliant military career in World War 1, in which he was highly decorated.
James first worked at Ashchurch station, where his father was stationmaster, from 1905 to at least 1911, in turn as assistant goods clerk, goods clerk and booking clerk. He was then a clerk at Great Malvern, Worcs, in 1914. Soon after war was declared in August 1914 he enlisted in the army and served in France, see details below. After the war he returned to Gloucestershire and in 1918 he was registered as an absent military voter at his father's house in Ashchurch. The same year, presumably on leave, he married. His wife, Ethel Mary Price, could be the lady of that name who was born in Aston, near Birmingham, in 1894, daughter of a button tool maker, and who in 1911, still in Birmingham, was training to be a schoolteacher with the local authority. In 1919 and 1920 James was listed with his wife in Tewkesbury, first as an absent military voter, then a resident. His was living at Bank House. This is presumably the same as the house of that name in the High Street today, a listed old half-timbered building currently occupied by a bank. Presumably he was still working as a railwayman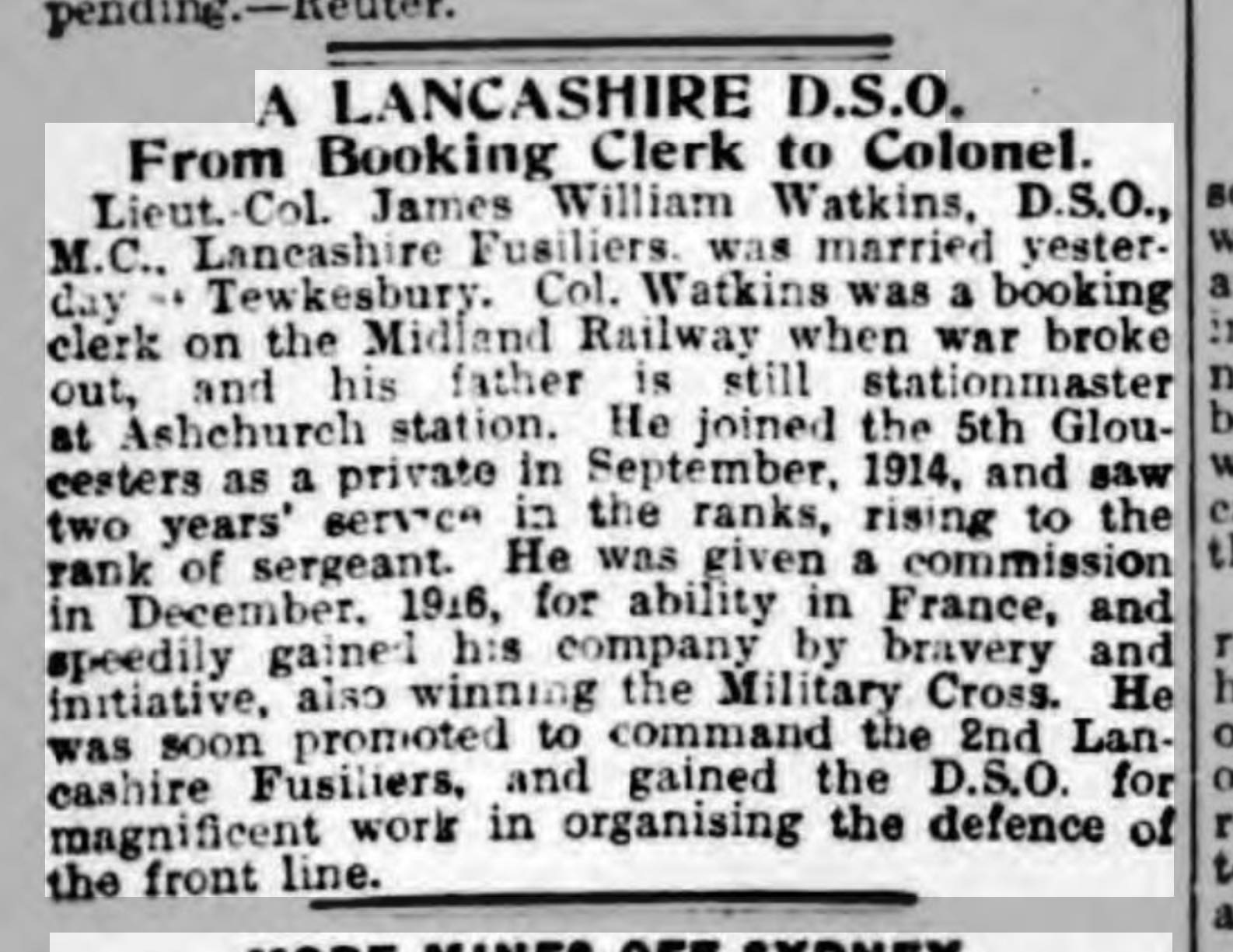 Press clipping from the Manchester Evening News 16 August 1918 relating to James Watkins marriage and a short biography
In about 1921 he moved to Derby, the location of the headquarters of the Midland Railway, which would become part of London Midland Scottish in 1922. A daughter was born there in 1922. Here he remained until perhaps beyond the Second World War, at an address in Mount Carmel Street in 1939, not far from Derby Station. He rose to become "Asst Div S of O" by 1938. In 1948 he was one of three railway representatives present at the ceremony at Euston Station in London for the naming of a locomotive by Field Marshall Montgomery. He was described as Operating Superintendent, British Railways. In 1958 he was one of six people reappointed to the British Transport Commission, in his case for one year as a full-time member. This was an authority which had been set up under the Attlee government after the war, charged with coordinating the country's transport systems. James was in good company, other reappointments being General Sir Brian Robertson GCB, CBE, KCMC, KCVO, DSO, MC, Sir John Benstead CBE, Lord Rusholme, Sir Reginald H Wilson, Mr T H Sumerson JP and Sir Cecil M Weir KCMG, KBE, MC.
He did not live to complete his term. He died in early 1959 while living at an address in Watford, Hertfordshire. His wife had presumably pre-deceased him, as it was his unmarried daughter Joan Mary rather than his wife who was among those granted probate for his estate.
James's war service deserves mention. In 1914 he enlisted as a Territorial with the Gloucestershire Regiment, almost certainly with the 1/5th Battalion, which was being formed in Gloucester. He was a volunteer who did not take advantage of his protected status as a railwayman that many others here claimed. He deployed with his unit to France at the end of March 1915. In January 1916, now already a sergeant, he was mentioned in despatches. Two months later he was one of a number of other ranks put forward for commissions and a month after that he was transferred to the 2nd Battalion of the Lancashire Fusiliers as a Temporary Second Lieutenant. From here James did well. He appears in the war diaries of his battalion on a number of occasions, leading his men in the thick of battle. He was again twice mentioned in despatches. He remained a temporary 2nd Lieutenant but more and more assumed the duties of those of higher rank, presumably killed or wounded. He is seen as an acting captain, major and lieutenant colonel. He acted as second in command of his battalion during 1917 and part of 1918, and as battalion commander for ten days in this period. He ended with the Distinguished Service Order and the Military Cross. At one point he was wounded. He reverted to his rank of Acting Lieutenant at the end of the war but was later confirmed as Lieutenant Colonel for retirement purposes. He was shown as [formerly of] the Lancashire Fusiliers in the 1939 identity card register.
Background
key to column 2: cen=census; er=electoral register; gro=central record of births, marriages, deaths; LG=:London Gazette; idc=1939 identity card register; mil=military sources; prob=probate; rly=railway documents;

| | | |
| --- | --- | --- |
| 1890 | gro,cen | born Stonehouse, Glos, birth registered Stroud, 4th quarter |
| 1891 | cen | at home in stationmaster's house, Stonehouse with parents and siblings, 7 months old, father stationmaster |
| 1901 | cen | at home in stationmaster's house, Ashchurch with parents and siblings, 10, schoolboy, father stationmaster |
| 1905-08 | rly | clerk at Ashchurch station to at least 1908, in three posts sequentially, salary increases from £15 to £35 |
| 1911 | cen | at home in Ashchurch, with parents and sister, 20, railway clerk presumably at Ashchurch, father stationmaster |
| 1914 | rly | clerk at Great Malvern railway station, salary £80 |
| 19.. | mil | served in World War 1 with the 2nd Bn, Lancs Fusiliers, rose from 2/Lt to :Lt/Col, awarded DSO and MC, wounded. Several references in regimental diaries to bravery in the field |
| 1918 | er | listed at parents' house, West View, Ashchurch, absent military voter |
| 1918 | gro | marriage to Ethel Mary Price registered Tewkesbury 3rd quarter |
| 1919-20 | er | with wife at Bank House, Tewkesbury, absent military voter in 1919, resident in 1920 |
| 1921-22 | gro | deaths of mother and father in Ashchurch |
| 1922 | gro | birth registered of Joan Mary Watkins at Derby 1st quarter, mother's maiden name Price |
| 1922 | rly | to at least 1938, working for London Midland Scottish railway in Derby, see below |
| 1939 | idc | living, with wife, at 29 Mount Carmel Street, Derby, railway official, born 4/8/1890. Reference to Lancashire Fusiliers |
| 1948 | doc | at Euston, London in train-naming ceremony, as Operating Superintendent of British Railways, see below |
| 1958 | LG | on the board of the British Transport Commission, see below |
| 1959 | gro | death registered Watford, Herts, 1st quarter, age 68 |
| 1959 | prob | death 12 Jan, address Allways, 23 Shepherd's Road, Watford, probate 18 Dec London, to Joan Mary Watkins, spinster, Edgar Stanley Hurd, retired railway officer and Meryn (sic) Lewis solicitor, estate £16080 11s 8d |
Some detail
From Railway Gazette
Lt Col J Watkins DSO MC, ex-Serviceman's Association, attended the Annual Dinner at Derby, 5 March 1927
From list of salaried staff of Midland Railway, 1914
Watkins J W, Great Malvern Station, clerk, [salary] £80. Against this typed entry is handwritten, clearly after 1959: CWO DSO MC, £6250 finishing salary, died 12/1/59
From Midland Railway (later London Midland and Scottish Railway) records
1905-11 clerk at Ashchurch Station, where father was stationmaster
1914 clerk at Great Malvern Station, Worcs, salary £80
1922-1938 career with the London Midland Scottish Railway at Derby, salary rising from £420 to £3000, position in 1938 "Asst Div S of O"
From Pioneer, the magazine of the Royal Pioneer Corps
1948 at Euston Station, London. Mr J W Watkins, DSO MC, Operating Superintendent, British Railways, one of three BR senior staff attending lunch and ceremony relating to the naming of a locomotive The Royal Pioneer Corps by Field Marshal Montgomery.
From the London Gazette

Reappointed for one year from 1 June 1958 as a full member of the British Transport Commission. Others include Gen Sir Brian Robertson, bart, GCB CBE KCMG KCVO DSO MC, (chairman), Sir John Benstead CBE (deputy chairman), Lord Rusholme, Sir Reginald H Wilson, Mr T H Sumerton JP, Sir Cecil M Weir KCMG CBE MC
Military
Sources are military and London Gazette

| | | |
| --- | --- | --- |
| 1915 | mil | 29 Mar, disembarkation [in France] |
| 1916 | mil | 1 Jan, J W Watkins, Serjeant, 2741, Gloucestershire Regiment (Territorial Force, M[entioned] I[n] D[espatches] |
| 1916 | mil | 4 Mar, J W Watkins, A/Cpl, 2742, Gloucestershire Regt, disembarkation [in France] 29/3/15, to Commission |
| 1916 | LG | 4 Apr, Sgt J W Watkins (to transfer) from the Gloucestershire Regiment Territorial Forces to the Lancashire Fusiliers |
| 1916 | LG | 12 Nov, Temp 2/Lt, to be acting captain |
| 1917 | mil | 1 Apr, J Watkins, temp 2/Lt, Lancashire Fusiliers, M I D |
| 1917 | mil | 12 May, J Watkins, temp 2/Lt (acting captain), Lancashire Fusiliers, M I D |
| 1917 | LG | 14 Apr, 2/Lt (acting captain) J W Watkins to be acting major while serving as major in the HQ of a Bn |
| 1917 | LG | 5 Sep, one of a list of temp 2/Lts to become temp/Lts |
| 1917 | mil | Jul-Oct, second-in-command 2nd Bn Lancs Fus, major |
| 1917 | mil | 1-10 Oct, commanding 2nd Bn Lancs Fus |
| 1917 | LG | 10 Oct, Temp 2/Lt (sic) J W Watkins relinquishes the acting rank of major, and to be acting major whole serving as major and Hd-qrs of a Bn 30/10/10/17 |
| 1917 | mil | Nov-Feb 1918, second-in-command 2nd Bn Lancs Fus |
| 1918 | LG | 25 May, Temp Lt (acting Lt Col) J W Watkins DSO MC relinquishes his acting rank on ceasing to command his battalion and reverts to the acting rank of major, with pay and allowances of his acting rank |
| 1919 | LG | 25 Mar.2/Lt (sic) J W Watkins in a long list of officers, perhaps relating to release from service |
| 1919 | LG | 11 Jul, Temp Lt J W Watkins DSO MC, Serv Bn, relinquishes the acting rank of major |
| 1922 | LG | 17 Feb, granted rank of Lt-Col |