There were one, possibly two ticket collector posts in Ashchurch. The first was established as a new appointment on 2 May 1865. It was typical in that during the first decade or so it was filled by a progression of people, probably young and unmarried, being posted around the network and remaining in post for just a year or two. Later postholders stayed longer, married men who had clearly settled. The men filling this post were in the main porters from elsewhere who, after Ashchurch, went on to become ticket collectors, porters, and also stationmasters elsewhere.
Stapp D
2/5/65, Ashchurch, asst porter
new appointment
20/11/66 Birmingham, ticket collector
Sibley, John
20/11/66, Charfield machine lad
Turner
before 1871, unknown
5/11/72 Birmingham ticket collector
Liddell F
5/12/72, Stoke Works porter
1873
15/8/74 Cheltenham High Street ticket collector
Estop F
18/8/74, Berkeley Road assistant
1874
5/11/75 Birmingham ticket collector
Collett F
5/10/75, Wixford asst porter
1876,77
16/4/78 Litton, porter-in-charge
Osborne HL
16/4/78, Rawmarsh parcels porter
resigned 11/6/78
Marriott F
3/9/78, Sandiacre goods clerk
1879
incapacitated by accident 2/9/79*
15/4/80, Redditch goods clerk
Boden J
6/1/80, Ambergate clerk
Chesterfield date/post/ unknown
Lee T
14/6/83, Mangotsfield porter and gasmaker
19/2/91 Cheltenham, High Street, stationmaster
White WJ
19/2/91, West Bridge asst porter
resigned 17/8/91
Smith GA
19/11/91, Ashchurch porter
1892-96
Gloucester date/post unknown
Johnson GE
14/10/95, Montpelier Point porter
1898
stationmaster in Droitwich in 1911
Hancox WH
21/7/04, Ashchurch porter
1905-07
c. 1912
* Marriott: fell between train and platform
A possible second post was established in 1876. In January of that year R B Knight, a porter from Gloucester, arrived to fill a new ticket collector appointment at Ashchurch. However, in October of the following year he moved to Skipton, again as a ticket collector, and he was apparently not replaced at Ashchurch. He would have a number of postings therafter, and became a stationmaster during the 1890s.
Selected biographies:
Walter Henry Hancox stayed in Ashchurch longer than most, for almost 20 years. He was born in Stonehouse, Gloucestershire in 1882, his father a labourer in a brickworks. In 1897 he joined Midland Railway as a gate lad at Stonehouse at a wage of six shillings a week. At Stonehouse he worked his way from gate lad to assistant porter and machine lad, and finally to porter by 1901 at a wage of sixteen shillings a week the following year. He transferred to Ashchurch in 1904, and between 1906 and 1911 he was in lodgings there with other railmen, now a ticket collector. In 1911 he married, probably in Tewkesbury, the home of his wife Kate Amelia Mardon, daughter of a retired engine driver. He was registered still in lodgings at Ashchurch the following year, perhaps in error. The next record is an address in Tewkesbury between 1918 and 1923, where he was living with his wife, though there are no details of occupation. By 1935 he had moved to Normanton, near Wakefield in Yorkshire, again occupation unknown. In the 1939 ID card register he is recorded as being a Station Inspector at Sheffield. His death was registered in Sheffield, Yorkshire, in 1963 at the age of 80.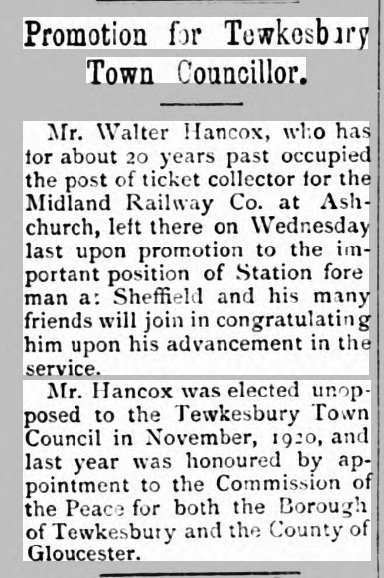 Press clipping from the The Tewkesbury Register, and Agricultural Gazette. 27 January 1923 with details of a promotion for Walter Hancox.
Gilbert Edward Johnson spent his whole career working with the Midland Railway. His eight years or so at Ashchurch was a stepping-stone in a career progression from porter to stationmaster. He was born in the Clifton district of Bristol in 1872. He was living at home with his widowed mother in Thornbury, Gloucestershire, in 1881. In 1891 he was in Keynsham, near Bristol, with her and his step-father. Aged 18, he was working as a railway porter at nearby Bitton station. He married Lucy Augusta Chivers in Bristol in late 1897 and a year later their first child was born in Ashchurch. Lucy was the daughter of a printer and in 1891 had been in service in Bristol as a cook.
The family remained in Ashchurch until at least 1904, living in one of the railway cottages at Ashchurch station and Gilbert working as a ticket collector. They then moved to Droitwich, where their fourth child was born in the autumn of 1905, and in 1911 Gilbert was stationmaster at Droitwich Road station.
After the war they returned to Gloucestershire and Gilbert became stationmaster at Beckford. He is recorded in Beckford between 1923 and 1931, living at the station house. In February 1930 his wife Lucy died, aged 63, and Gilbert remarried in September the following year. Two months later he himself died at the age of 59 while still living at Beckford station and presumably still in post.
Thomas Lee was in Ashchurch for some eight years as a stepping stone in a career from porter to stationmaster. His career took him from Mangotsfield, near Bristol, as a porter, Ashchurch as a ticket collector, and then Cheltenham and Frocester as stationmaster. His two sons followed him in railway employment, though not in Ashchurch. He was born in Derbyshire in about 1857. He is probably the Thomas Lee, born in Derbyshire, who was boarding in Pucklechurch in 1881 and working as a railway servant. Pucklechurch is just under 3 miles from Mangotsfield, where Thomas was working at the time. At age 24 he was already a widower. He married again in Bristol in early 1883 and moved to Ashchurch where he worked as a ticket collector. Children were born in Ashchurch in late 1883, 1885 and 1890.
By 1891 he had moved to Cheltenham, where he was stationmaster at the Midland Railway High Street station. A daughter was born there the following year. By the end of the decade he had moved to Frocester where another daughter was born in 1899 and where he was living in 1901, stationmaster there. In 1911 he was stationmaster at Wickwar, Gloucestershire, eldest son Mervyn living at home and working as a railway clerk, presumably at the station. Nothing is yet known further until his death in hospital Bristol in 1933 at the age of 77 - he had an address in that city. Probate for his estate was given to sons William and Mervyn, both of whom were working as railway clerks.