From the beginning there was a steady stream of men through Ashchurch filling the porter posts. Most of them were very short term, young men staying just a year or two before moving on to their next posting. Little is known about them other than as names. Most were young men, unmarried. They were in lodgings and thus do not appear in the electoral registers, even if any was old enough so to do, and very few would be captured by the ten-yearly censuses for Ashchurch. These have not yet been studied or listed. Not so, however, with the head porter or foreman porter post, which was very long term. Just three men occupied this post from before 1871 to 1946 and probably beyond, A Kirby, John Harrison and Francis Parslow.
J. Kirby
All that is known so far about J Kirby at Ashchurch is that he was foreman there from before 1871 to June 1879, when he transferred to Mallock Bridge, Derbyshire, as a goods porter.
John Harrison
John was born in Morley, Derbyshire in 1853 or 1854, his father an agricultural labourer. He himself was working as a farm servant at the age of 16 in 1871. In 1878, still in Derbyshire, he married, and a daughter was born the following year. At about the same tine he moved to Ashchurch, where he replaced J Kirby as foreman. Presumably he had joined the railway workforce in Derbyshire (the headquarters of the Midland Railway was at Derby).
Here he remained for the rest of his life. He described himself in the censuses up to 1901 as a railway porter, but in the railway documents and in 1911 he is shown as foreman. His wife died in 1909, but he remained, with his children, living in one of the railway cottages at Ashchurch Station. He was probably here until at least 1925. His death was registered at Tewkesbury, the reporting centre for Ashchurch, in 1933, at the age of 78.
Four children are known, three girls and one boy. The son, Robert John, did not follow his father as a railway worker, but was working as a shop assistant in Ashchurch in 1911 and an asylum assistant at an unknown location when he was enlisted into the army in 1915.
The local press reported an impressive turnout for his funeral at Ashchurch in May 1933. Not only was there a large group from Ashchurch, including the stationmaster and foremen, but also representatives from Cheltenham, Tewkesbury, Beckford, Prestbury, Leckhampton. Lt-Col J Watkins, son of a previous stationmaster and now a rising star in the railway headquarters in Derby, was represented by his wife. The coffin-bearers were railwaymen representing a variety of grades - H P Parslow (his replacement as foreman porter), Thomas Barnet (signalman), A Cummins (porter at Tewkesbury) and J C Martin (shunter).
Background
key to column 2 (sources): cen=census; er=electoral register; gro=General Records Office; mil=military docs; par=parish; rly=Midland Railway doc; prob=probate record
1853/4
gro,cen
born Morley, Derbys, birth registered either Shardlow 1853/3rd qtr or more probably Belper 1854/3rd qtr, both Derbys
1854
par
13 Aug, baptised in Morley, father Robert, mother Jane
1861
cen
at home in Morley, 6, scholar, father Robert agricultural labourer
1871
cen
in Morley, 16, indoor servant in the farm of Robert Sitwell
1878
gro
marriage registered Belper, Derbys, 1st quarter, to Sarah Ann Allsop
1879
rly
3 June, replaced J Kirby as foreman at Ashchurch
1879
gro,cen
daughter Mary Jane born at Long Eaton, Derbys, birth registered Shardlow 3rd quarter
1881
cen
at home in Ashchurch with wife and two children, 26, railway porter
1881
gro,cen
daughter Fanny born Ashchurch, birth registered Tewkesbury 4th quarter
1885
gro,cen
daughter Harriet Joyce born Ashchurch, birth registered Tewkesbury 3rd quarter
1888
gro,cen
daughter Robert John born Ashchurch, birth registered Tewkesbury
1891
cen
at home at Ashchurch Cottages, Ashchurch, with wife and four children , 36, railway porter
1891
er
probably to 1915, living near railway station, Ashchurch
1891
rly
at least 1891-1906, probably 1891,foreman at Ashchurch railway station, wages rising from 27 to 29 shillings (per week)
1901
cen
at home in Ashchurch, 46, railway porter
1909
par
marriage of daughter Mary in Ashchurch, own occupation railway porter
1909
gro
death of wife registered Tewkesbury 3rd quarter, age 57
1911
cen
at home at Midland Cottages, Ashchurch, widower, with daughter Harriet and son Robert John, 57, foreman porter on railway
1915
mil
son Robert John, asylum assistant, enlisted in Royal Army Medical Corps, rejected after 86 days because of flat feet and deafness
1918-25
er
to at least 1925, living at 14 Midland Cottages, Ashchurch
1933
gro
death registered Tewkesbury 2nd quarter, age 78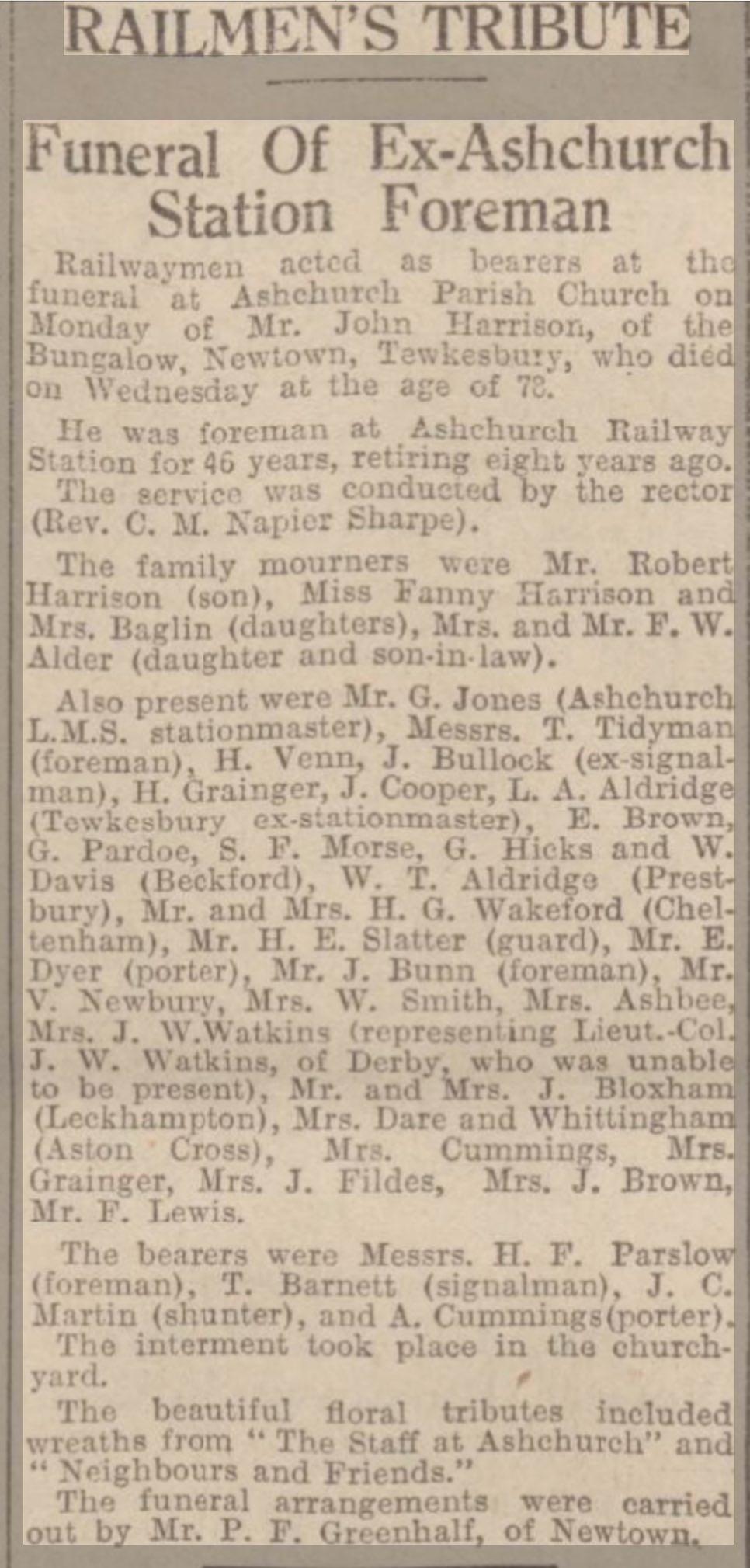 Press clipping from the Cheltenham Chronicle 06 May 1933 with details of John Harrison's funeral.
Francis Henry Parslow
Francis Henry Parslow was a Gloucestershire man, born in Cam in 1882, his father a gardener. He spent his life in the county working as a railwayman. In 1901 he was in lodging near Bristol, a railway porter, and was a guard in Dursley when he married in 1905, in Woodmancote in 1906 and again in Dursley in 1911. A daughter was born in 1906 and a son in 1911, on both occasions Francis reported as a porter guard. Presumably he will have enlisted for military service but no documents have been found. At the end of the war, in 1918, when his son died at the age of 7, he was still living in Dursley. By 1925 he had moved to Ashchurch, sharing the cottage which had been occupied by his predecessor John Harrison. Then between 1926 and at least 1946 he was the occupant of the cottage. In 1933, at his daughter's wedding in Ashchurch, his post as confirmed as foreman porter. At some point he moved to Cheltenham, perhaps on retirement, and died there in 1956 at the age of 75.
There were two known children, a boy and a girl. The boy, Francis John, died at the age of 7, the girl, Edith Maude, married. Following the death of Francis a George Henry Parslow was granted probate together with daughter Edith, but the relationship is uncertain. He was a headmaster.
Background
key to column 2 (sources): cen=census; er=electoral register; gro=General Records Office; mil=military docs; par=parish; rly=Midland Railway doc; prob=probate record
1882
gro,cen
born Cam, Gloucs, birth registered Dursley 2nd quarter
1891
cen
at home in Maisemore, Gloucs, 9, scholar, born Cam, father head gardener
1901
cen
lodging at Yate near Bristol, 19, railway porter
1905
par
married Maria Merrett at Kingsholm, Gloucester, address Dursley, railway guard, father John gardemer
1906
par
baptism in Dursley of daughter Edith Maude, living at Woodmancote, Gloucs, railway guard
1911
cen
at 5 Chastel Terrace, Long St, Dursley, with wife and daughter (4), age 29, railway guard
1911
gro,par
birth of son Francis John registered 3rd quarter, baptised Dursley, father porter guard, address 5 Chastel Terrace
1918
gro,par
death of sone Francis john, age 7, address Chastel Terrace, Dursley
1925
er
sharing accommodation (14 Midland Cottages, Ashchurch) with John Harrison
1926
er
to at least 1946, living at 14 Midland Cottages, Ashchurch
1933
par
20 Jun, marriage at Ashchurch of daughter Edith Maude, father foreman porter
1956
gro
death registered Cheltenham 2nd quarter, age 75
1956
prob
died 22 June, address 75, Gloucester Road, Cheltenham, probate to George Henry Parslow, head teacher, and married daughter Edith Maude Parker