Take a few moments to read and consider the bronze plaque "In Memory of Newton HIBBERT"...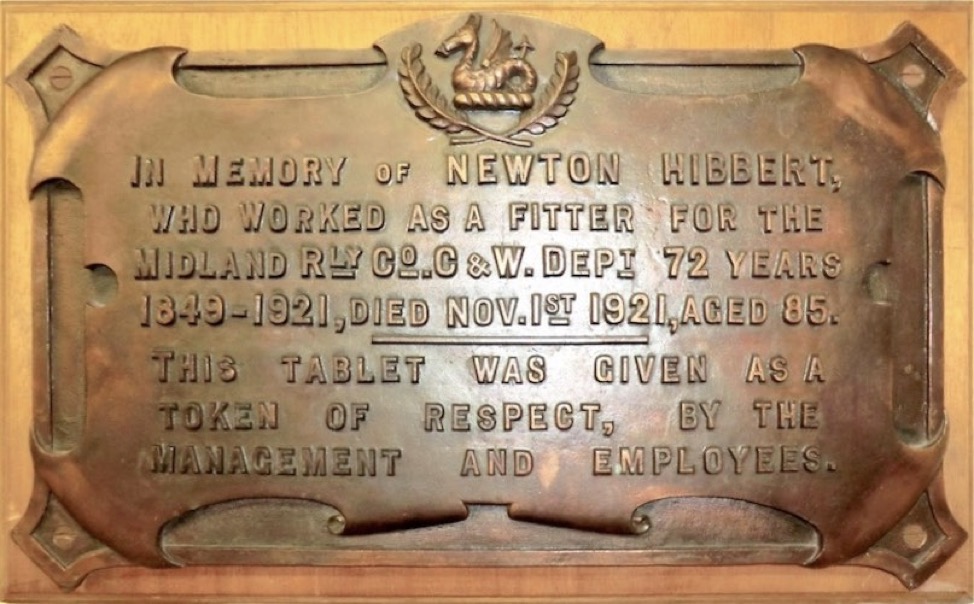 Midland Railway Study Centre reference RFB11580
Think about what it means to work for one company for 72 years. Think what his death meant to his workmates to cause them to commission this plaque.
Marking the Centenary of the Death of Newton Hibbert
Monday 1st November 2021 marked 100 years since Newton Hibbert's death. Ten days earlier he went out for a shave and never came home, having collapsed in the street and subsequently dying in the workhouse infirmary.
The anniversary of his passing was commemorated with a small ceremony in the Museum of Making.
His memorial plaque is special to us at the Midland Railway Study Centre as it represents not just this one man, but in some small way, all the tens of thousands of men (certainly not overlooking the small but notable number of women as well), many of whom similarly dedicated most or all of their working lives to the service of the Midland Railway.
We have ensured that Newton's memorial plaque is on prominent display in the Railways Revealed Gallery of the Museum of Making so all visitors to the Silk Mill are able to appreciate his remarkable story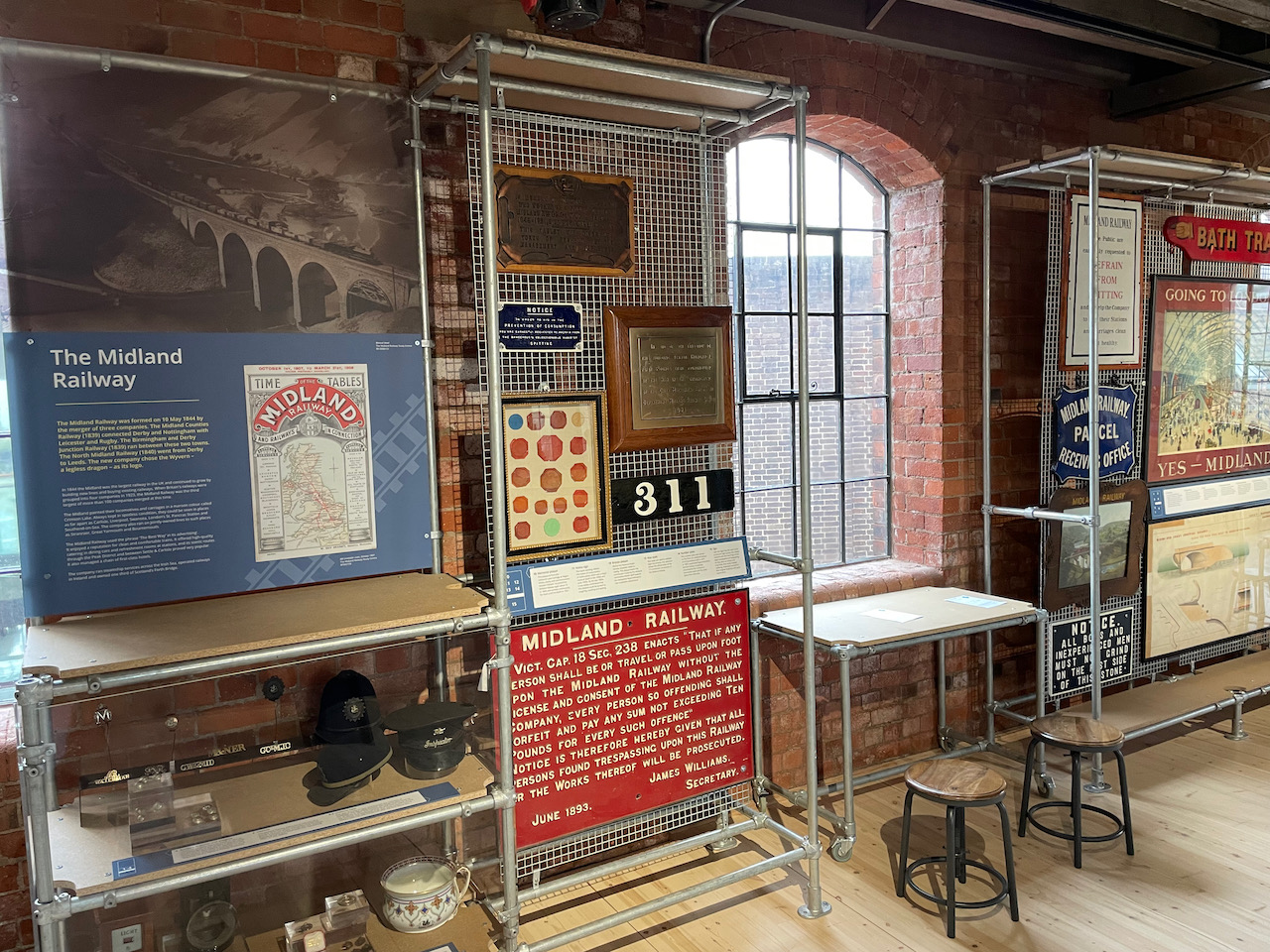 Who was Newton HIBBERT?
Newton HIBBERT was born in Derby, anywhere between 1836 – 1841, depending on which record is consulted. His father was also Newton HIBBERT who originated from Twyford, Derbyshire. Newton Jnr. was the eldest of six siblings, having three sisters and two brothers.
He was brought up in the Lodge Lane area of Derby and briefly worked as a silk mill hand – a very common occupation in the neighbourhood. However, around 1850 when his age was in the region of 13yrs, he obtained a job as a labourer for the Midland Railway at the company's Works at Derby station. When the new Carriage & Wagon works opened on Litchurch Lane in 1875, Newton was among the first employees there.
Newton's first marriage was before 1871 to Mary Ann SULLIVAN, but they appear to have had no children before Mary Ann died in 1878. In 1887 he married again, this time to widow Mary KEYS nee FARRELL, with whom he produced three daughters Harriet (1887/88), Gertrude (1892) and Elizabeth (1894). He also became step-father to Mary's six children.
Newton was widowed again on 17th March 1900 when Mary died aged 47. The family home for over 20 years had been on Uttoxeter Old Road, Derby – No. 60, then No.20. Following the marriage of his eldest daughter Harriet, to grocer Robert BIRD, Newton moved in with them at their home of No.21 Haddon Street, Derby. Gertrude became married to Percy HEMMING but Elizabeth remained a spinster.
Harriet died on 5th October 1921, aged 34, and presumably due the recent death of her sister, Gertrude was staying at Haddon Street.
Newton's record card from Litchurch Lane survives in the care of Derbyshire County Record Office (their reference D3220/13) one of several hundreds, if not thousands, of such records they hold. This appears to have been retrospectively created in 1914 and shows him being taken on by the Company on 5th April 1854. It also records his date of birth as being 14th June 1840 which more-or-less accords with later census records — though not the Study Centre plaque. Interestingly, as well as confirming his grade as a fitter throughout his career, this card records his last day at work as being 20th October 1921, confirming he was working right to the end.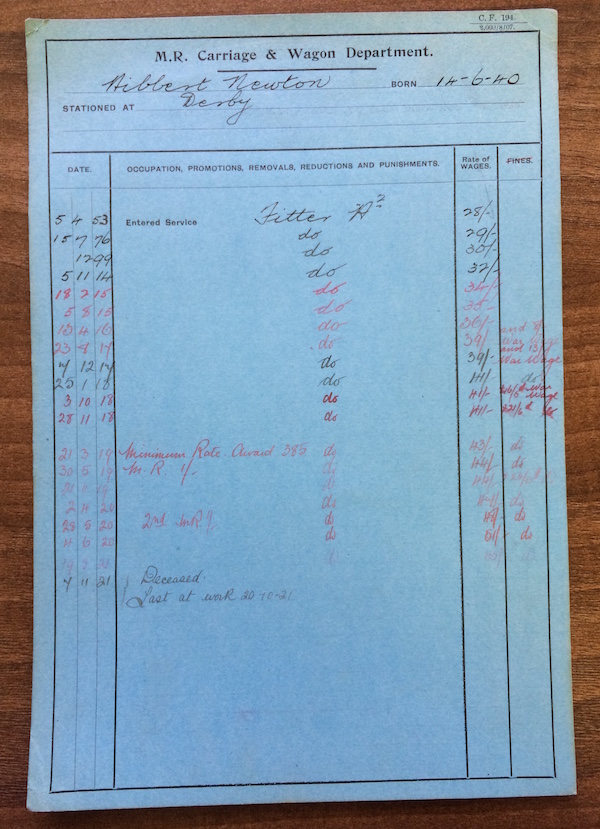 Newton Hibbert's staff record card (click for larger version)

You might reflect on the fact that
he went 22 years then 27 years between pay rises!
During the morning of Saturday 22nd October 1921 Newton left Haddon Street intending to get a shave. Later that afternoon, a nurseryman working in gardens called The Glebe, described as being between Porter Road and Whitaker Road, heard a man fall over. On rushing to assist he found Newton face down on the footpath, unconscious. An ambulance was called and, according to the subsequent inquest, he "seemed stupid and dazed, and could give no account of himself." Evidently his demeanour led to the assumption he was a vagrant and so was taken to the Derby Union Infirmary – the Workhouse – rather than to the town's main hospital, the Royal Infirmary.
Whether this decision had any effect on the final outcome isn't recorded, though the inquest report seems to strongly hint that it did. The doctor who received him at the Union Infirmary, Dr. Jane Reynolds told the Coroner that the patient was evidently suffering the effects of a seizure. In any event, he died ten days later of what was described at the time as "apoplexy". This now discredited term (at least in describing a cause of death) could cover anything from a heart attack to, perhaps more likely, a stroke.
Meanwhile, his daughter, Gertrude, was concerned as to her father's whereabouts. As he hadn't returned by 10pm, she reported him to the police as missing. He was eventually tracked-down to the Workhouse, although the report of the time doesn't make it clear how long before his subsequent death this was.
He died on 1st November 1921 when his age was recorded as 85 [1836]. His inquest and funeral took place on the same day, Friday 3rd November. The cause of death was recorded as "natural causes" and he was buried with great ceremony in Derby's Nottingham Road cemetery. The mourners included many workmates from H Shop at the Midland Railway's Carriage & Wagon works.
He had worked for the Midland Railway at the Carriage & Wagon works since 1849, a period of uninterrupted service of 72 years. The newspaper report of his funeral said that he was "considered to be one of the oldest railway employees in the kingdom". The bronze plaque which was bestowed in his honour is now preserved in the Museum of Making at Derby's Silk Mill.
That Newton HIBBERT remained in work until his death at age 85 was doubtless a consequence of the dire shortage of labour following the Great War, though it was probably also about his need to support a relatively young family. The Midland Railway, however, was by no means a charity,
and if Newton were unable to perform his job adequately, they would surely cause him to retire.
Unfortunately too much time has elapsed to allow us to really find out who Newton HIBBERT was and what lead to him being reputedly "one of the oldest railway employees in the kingdom". One thing is for sure, he must have been a popular man given the "token of respect" of having a bronze tablet erected in his honour.
The press report on the Inquest...
The Derby Daily Telegraph – Friday, November 4th 1921
OCTOGENARIAN's DEATH
Had Not Seen A Doctor For Years
The death of a Derby octogenarian who worked regularly as a fitter at the M.R. works and had not seen a doctor for years, was the subject of an inquiry conducted by Mr. J. Close (Coroner) and jury at the Police Station this (Friday) morning. The deceased man, Newton Hibbert (85), resided in Haddon-street, and died at the Union Infirmary on Nov.1.
Mrs. Gertrude Hemming, daughter of the deceased, with whom he resided, said that her father left home on Saturday morning, Oct 22, for a shave. He was in the best of spirits, not having seen a doctor for several years. He worked regularly. He had never been subject to fits, but had had dizzy bouts. As he had not returned by 10 p.m. she communicated with the police, and was told he had been taken to the Workhouse Infirmary where he died on Nov. 1.
Wm. Charrington, nurseryman of 8 Lyndhurst-street, said that on the afternoon of Oct. 22 he was working in the Glebe Gardens, between Porter-road and Whittaker-road, when he heard the sound of somebody falling. Running to the road he found the deceased lying unconscious on the footpath, face downwards. The ambulance was summoned and he was taken to the Union Infirmary.
Dr. Jane Reynolds, house surgeon at the Union Infirmary, said that the deceased was in a semi-conscious state on admission, and was evidently suffering from the effects of a seizure. The face was bruised, probably owing to his fall to the ground. Death was due to apoplexy.
By the Coroner – Witness had been informed that deceased had first been taken to the Royal Infirmary, but was conveyed to the Union Infirmary as the case was thought to be a suitable one for the latter institution. Deceased seemed stupid and dazed, and could give no account of himself.
A verdict of "Death from natural causes" was returned.
The press report on the Funeral...
The Derby Daily Telegraph – Wednesday, November 9th 1921
VETERAN RAILWAYMAN
Funeral of Mr. Newton Hibbert at Derby
The funeral of Mr. Newton Hibbert took place at the Nottingham-road cemetery on Friday. The deceased gentleman, who had attained the age of 85 years (having been born in the year 1837), was considered to be one of the oldest railway employees in the kingdom. He commenced work in the Midland Railway Works in the year 1850, at the age of 13 years, and continued at work until the 20th ultimo, thus creating a record of continuous service of between 71 and 72 years with the Midland Railway Company. The internment took place amid manifestations of great regret, a good number of his fellow workers preceding the hearse. The mourners were: Mrs. Hemming, Miss Hibbert, Mrs. J Burgess, Mrs. W J Bates, Mrs. G Smith (daughters), Messrs. P Hemming, R Bird, J Burgess and T Keys (sons-in-law), Miss Bird, Miss Rowbotham, Mr. Gask, Mrs. Smith, and Mrs. Brentnall. The service at the cemetery was conducted by the Rev. W.W. Goldstraw. Among the numerous representatives were Miss Vessey (F Shop), Messrs. A Smith (late foreman), A Gomm and E Kemp (foreman H2 Shop), Messrs. L Eastwood, J Pipes, W Brick, G Thompson (H2 Shop), Messrs. J Clarke and J Mansfield (Tin Shop), Mr. J Hemstock (Trimming Shop), Mr. W Brentnall (Time Office), Mr. Morris (late Correspondence office), Mr. F Youle (D Shop), Mr. Tatler (N Shop), Messrs. H Wood, R Garratt, and N Dunning (H1 Shop), and Mr C Goodwin (engineer, Royal Infirmary). Floral tributes were sent by the relatives and Mr. & Mrs. H Bird; Leonard and Nellie, and Lilly Bird; Mrs. Rowbotham and family; Mr. and Mrs. Wiliams and family; Mr. & Mrs. Hunt and family; Mrs. Waite and family; foremen C&W Works; foremen and workmen, H2 Shop, H Shop Benevolent Fund; foremen and workmen, H1 Shop; F Shop, C&W Works. The coffin was of polished elm, with brass fittings and nameplate, inscribed "Newton Hibbert, at rest Nov. 1, 1921, aged 85 years". It was borne by six of the deceased's workmates from H2 Shop: Messrs. J Mottram, G Lyons, J Boyd, E Brown, WE Luton and G Allsopp. The funeral arrangements were carried out by the Derby and District Funeral Co.
The Hibbert family grave...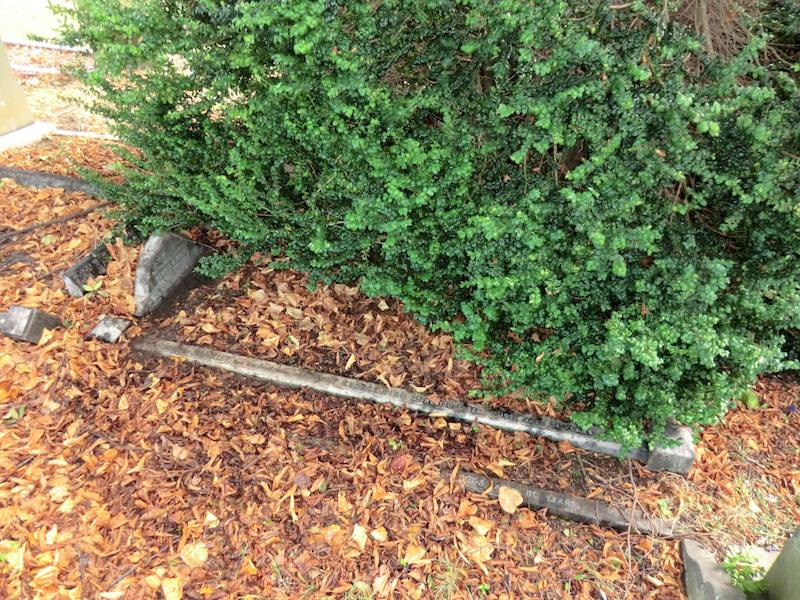 Newton HIBBERT's sadly neglected grave in Nottingham Road Cemetery, Derby, also contains his second wife, Mary, as well as their daughters Harriet and Elizabeth.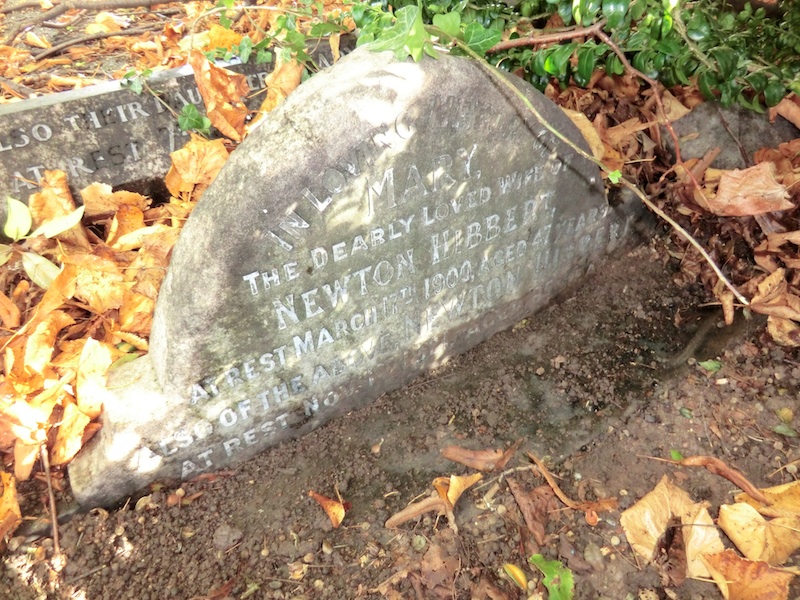 The memorial to Mary HIBBERT, with Newton HIBBERT's memorial below. The memorials for their daughters Harriet and Elizabeth are inscribed along the sides of the grave.
The genealogical data...