Monday 1st November 2021 marked 100 years since Newton Hibbert lost his fight for life in Derby's Workhouse Infirmary following his stroke over a week previously. Newton's exceptional 72 years of continuous employment with the Midland Railway is marked by a plaque displayed in the Railways Revealed Gallery of the Museum of Making. It was wholly appropriate, therefore, that a small ceremony should take place to mark the occasion.
The Museum is closed on Mondays, so it was necessarily a low-key event. It was marked by a gathering of staff, including Derby Museums Director, Tony Butler. The Coordinator of the Midland Railway Study Centre, Dave Harris, said a few words prior to those assembled pausing for a moment of reflection...
I think most or all of us gathered here are at least broadly familiar with the story of Newton Hibbert and his remarkable 72 years of service for the Midland Railway.
Inside the Midland Railway Study Centre there are records, ledgers, memos and forms that, to a greater or lesser extent, represent the lives of countless thousands of Midland Railway employees.
Coming together for an act of remembrance at 11:00 in November is something usually done to honour military personnel. Today we do it for a railwayman. Rail workers rarely face death at the hands of enemy combatants, but it is no less an honourable occupation and often one which has its own dangers.
Whilst we are here to mark 100 years since Newton's death, in doing so I hope we can also take a moment to think about and appreciate all rail staff, those of the Midland Railway and all others, wherever and whenever they served. It may be bordering on cliche to say that without the people there would be no railway, but that doesn't make it any less true.
There may have been something special about Newton Hibbert as an individual which led to his exceptionally long career. He certainly lived and worked through times we can barely imagine now. However, I'm fairly sure he would have thought of himself as an ordinary man doing an ordinary job, doing his bit to put food on the table for his family.
That still makes him a hero in my eyes.
Let's now take a few moments to reflect on Newton's life, as well as those around him and those who followed him….
Joining the Museum staff for the occasion, we were delighted to welcome three guests from the Litchurch Lane Carriage & Works, including Kevin Owen worked especially hard to keep Newton's memory alive among his modern-day counterparts.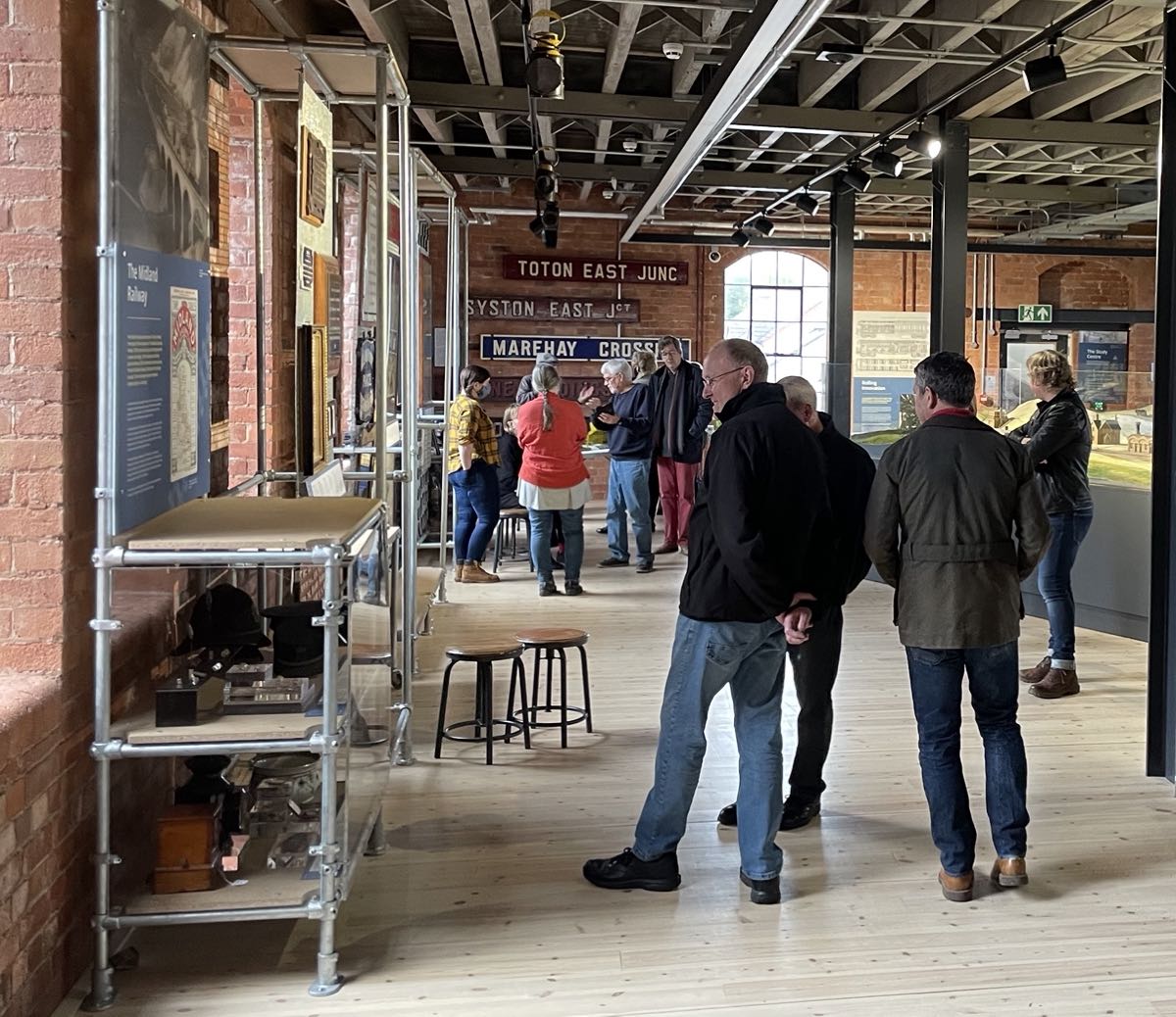 In addition to the ceremony, it was also appropriate to ensure Newton's grave in Nottingham Road Cemetery was also spruced up to reflect the fact that people were thinking about him. Newton's second wife, Mary, and two of their daughters also lie here. His daughter, Harriet, died only five days before Newton suffered his stroke.