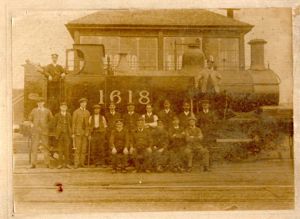 A group photo at Derby St Mary's Goods Yard.
Click the photo to download a 200kb version (Creative Commons non-commercial licence).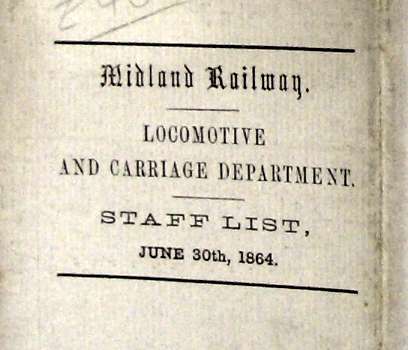 If your relative happened to work in the Locomotive Department of the Midland Railway in 1864, this document may interest you. It lists the number of men employed by the company in each grade and their rate of pay (and the wide variation in pay is quite remarkable).
Many of the enquiries we receive at the Midland Railway Study Centre are from descendants of Midland Railway employees anxious to find out more about their relative's working life and career. We welcome such enquiries as, of course, we'd like to know more about Midland Railway employees too, so it can be a mutually beneficial exercise.
However, the help we can offer is often somewhat limited because of the way the holdings of the Study Centre came to be collected.
The bulk of the documentary holdings in the Study Centre were amassed over a period of many years by one man, Roy Burrows. As an individual, Roy's collecting was done mainly by being in the right place at the right time when documents and artefacts became available – and for obvious reasons, records relating to employees were rarely disposed of in that way.
Consequently, compared with other areas, the collection is quite weak in what personnel records it holds. Having said that, carrying out a search of our catalogue is always worthwhile. The process of cataloguing the collections is still on-going, and the process may not always capture the names of the individuals contained within documents, but you never know.
All this is a long winded way of saying that looking for mention of a relative in the Study Centre will be a classic needle-in-a-haystack affair, with no real certainty of the 'needle' being in there in the first place.
There are exceptions, however. The Study Centre does hold staff records for:-
Goods Department at Burton-on-Trent. This is quite wide ranging, including signalmen on the goods only branches.
Locomotive Department at Derby and Nottingham. Note that this relates to the running sheds (drivers, firemen, cleaners etc.), not the engineering works. It covers the period c.1890 - 1913.
Engineering Department in the Manchester Area, including: Chapel, Chinley, Bugsworth, Hazel Grove, Cheadle Heath, Didsbury, New Mills, Romiley, Bredbury, Ancoats, Sandon Dock, and Marple. In use 1900 – 1950.
Locomotive Department at Bristol Barrow Road. Over 1,300 detailed staff records from as early as 1877 well into BR days (though viewing of later records is restricted for privacy reasons).
Midland Railway lists of men in the Great War. These two documents list the over 7,500 men who joined up in 1914, and the 2,833 men who did not return.
If your relative worked at at these locations around the turn of the century, we may be able to help you. We don't yet have a searchable index for these ledgers, however, so there is still some work to be done.
Away from the Study Centre, one source that anyone researching their family history with a railwayman as an ancestor should consult the National Archives at Kew. They produce an excellent 'on-line' leaflet detailing the resources they have available. Following the link within for the Midland Railway will reveal a long list of stations and depots for which they hold the staff records. To assist, there is a short list of MR Co. Staff Records held by the National Archives on this site.
Hopefully these notes haven't put you off making your enquiry with the Midland Railway Study Centre, we will try and help, we just want you to be aware of our limitations.
Follow this link to view a new page detailing the Staff Records within the collections.
Enquiries received and dealt with by the Midland Railway Study Centre are handled in accordance with our Privacy Policy.