We have information — and we want to share it with you!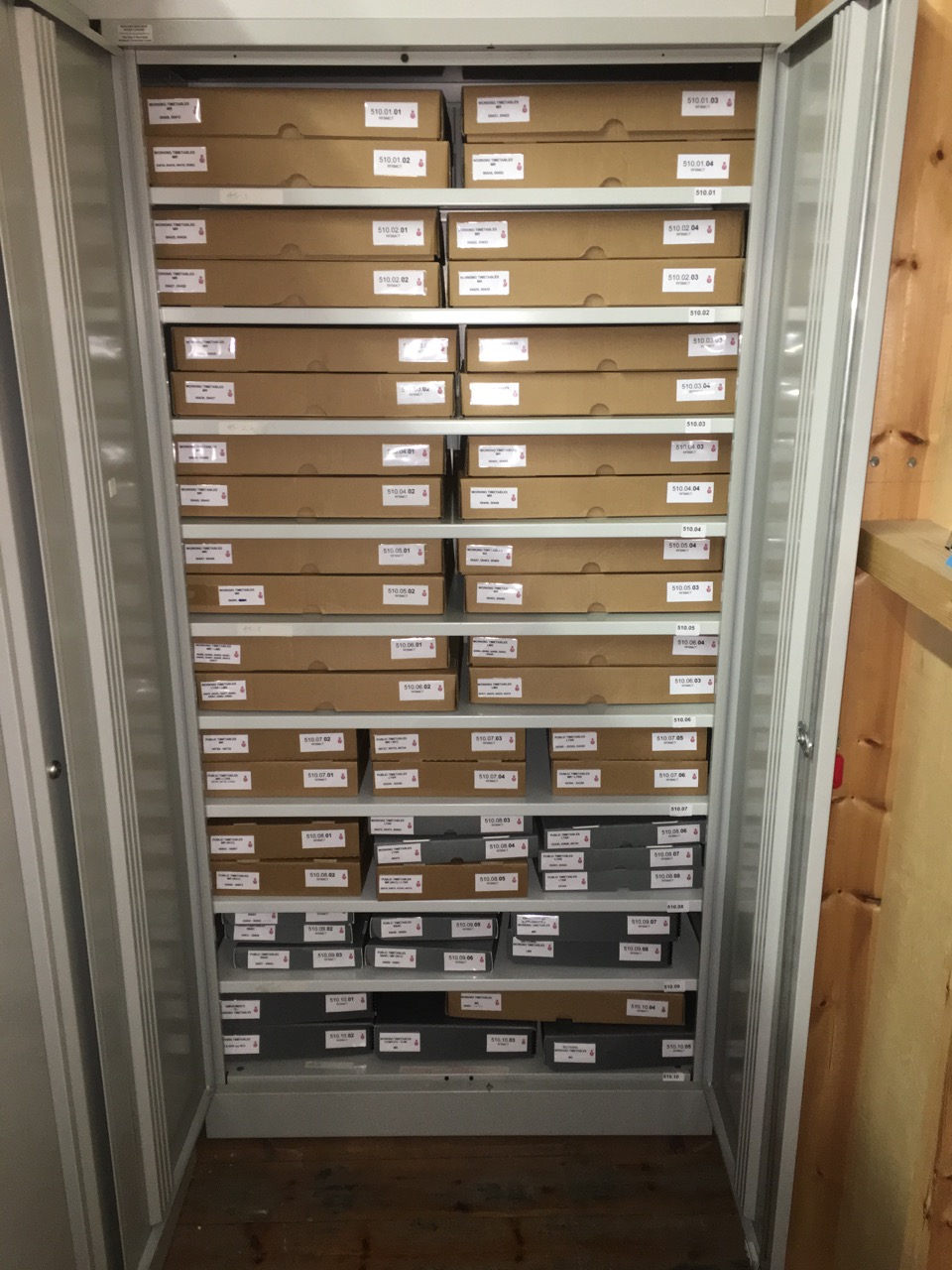 The Midland Railway Study Centre is full of cabinets like this one, each bursting with information about the many and varied aspects of Midland Railway history, operation and people. We want to help you find it and use it.
While the Midland Railway Study Centre is set up first and foremost to be a research facility, it is very often the case that the information you want to find is already at or very near our fingertips. Many people visit us to carry out new and pioneering research into an area of history never previously examined. However, many more are quite reasonably following along some well-trodden ground. This can be especially so when researching your family history.
In such cases, it is quite possible that we are able to provide you with some or even all the information you seek without having to visit us here in Derby. In any event, a first step in any enquiry is for you to search our on-line catalogue for the subject or person you are interested in. Shorter, less-specific searches are best to start with, drilling-down into more specific questions if you find you get lot of results initially. You may well find there is something there which you can download that answers your question immediately.
The next stage would be to contact us. Email is by far the most efficient way to do so and you'll find our contact details at the bottom of each page on this site. When contacting us with an enquiry, besides obvious contact details, we need to know the following:
Tell us what it is you want to find out.

Please be as specific as possible, asking in general terms about a particular station or railway line, for example, will make it difficult for us to give you a useful answer.

What do you already know?

There is no need to go into detail, but telling us, for example, what documents or libraries etc. that you have already consulted will help focus our response. This is especially so for family history enquiries - we are very interested to learn about MR employees, so we would delighted to hear all about your ancestor so we can preserve their story in our records.
If you are researching your Family History and you have an ancestor who worked for the Midland Railway, please follow this link.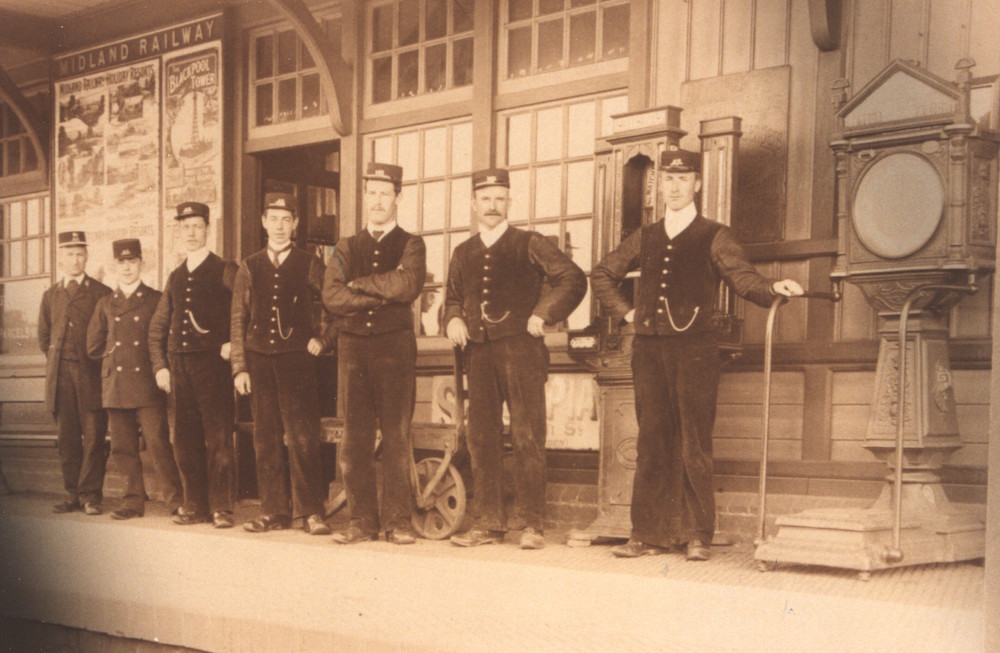 Alternatively, if Midland Railway locomotives are your interest, this link will help.
We will endeavour to give you a response very quickly, but ask you to bear with us as your enquiry will be dealt with by one or more volunteers whose spare time may be limited. For that reason, we reserve the right to levy a fee on commercial organisations requesting research — please contact us for details. There is no fee for private individuals.
To contact us:
The Midland Railway Study Centre
c/o Derby Museum & Art Gallery, The Strand, Derby, DE1 1BS
Email:enquiries@midlandrailwaystudycentre.org.uk
Some other sources of Midland Railway information
to help you...
National Railway Museum
The NRM continue to make more and more of their vast collection available on-line. As such, their Collections Catalogue is well worth spending some time with.
The Midland Railway Study Centre is very proud to be a Partner in Excellence with the National Railway Museum.
The National Archives
Kew hold a substantial amount of Midland Railway material, including but far from limited to, many staff records and the full set of the various committee minute books. The main sub-reference for the Midland Railway in Discovery - their comprehensive on-line finding aid is RAIL 491.
Kidderminster Railway Museum
KRM have an extensive collection of photographs covering the entire country, many originating from the Roy F Burrows Midland Collection. You can contact them via their web site.
The Signalling Record Society
The SRS have an extensive archive and a Study Centre at Kenilworth, Warwickshire which they share with the London & North Western Railway Society. Find out more at the SRS web site.
The Manchester Locomotive Society
Based on Stockport Station and in existence since 1935, this group's archive, library and photographic collection are all hugely impressive. Whilst there's naturally a strong north west England bias, their collections and members' interests span the globe. Anyone interested in the Cheshire Lines Committee (of which the Midland Railway was a constituent) will be well served by the MLS. Their resources are available to their members only, but if that is your interest, the modest annual subscription will be well worth it. Details on their web site.
Picture The Past
This is the North East Midland Photographic Record which holds the combined photographic collections of the local authorities of Derbyshire and Nottinghamshire. Their railway collection is extensive and the web site is well worth exploring.
Newton Abbot Railway Studies Collection
Although primarily focussing on the Great Western Railway, the Railway Studies Centre in the Passmore Edwards Centre, operated by Devon Libraries, has a substantial amount of information covering the whole of the UK's railways. Their web site contains a selection of images from the collection and a link to Devon Libraries' on line catalogue. Read more in this leaflet.
There is no charge for individual private researchers to use the Study Centre, whether visiting in person or making email enquiries. Our volunteers receive no reimbursement, not even for travelling, as they are happy to help. However, there are overheads in operating the Study Centre and we have a responsibility to properly conserve the material we hold and use. To that end, if you have received assistance from us and wish to show your appreciation, we have added this PayPal button for your convenience.
Donations made in this way (or by cheque to The Midland Railway Society) are "ring fenced" for use in the Study Centre. Thank you.
The Midland Railway Society is a Registered Charity - Number 1149613